Warn Zeon Winch Stars with James Bond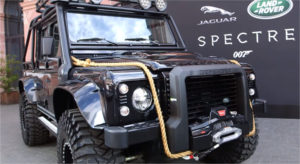 The WARN® ZEON® winch is a design masterpiece that's tough and fearless enough to tackle anything and it seems James Bond is happy to appear alongside it in his new adventure 'Spectre'.
Fitted by the UK Land Rover team, the WARN ZEON has taken pride of place in the fully kitted out Defender at SPECTRE promo events and features a durable satin-black cast-aluminum housing, muck-busting sealing, and a convertible control pack that allows you to mount the winch the way you want.
The Land Rover Defender was enhanced with 37-inch off-road tires, reinforced body panels, bespoke suspension, an exterior roll cage, a roof-mounted bespoke lighting fixture and significant tweaks under the hood.
Get in touch with 'Customs, PB Customs' if you are looking at fitting a Warn Zeon Winch to your off-road vehicle.