Bentley Produces the 'Bentayga' 4×4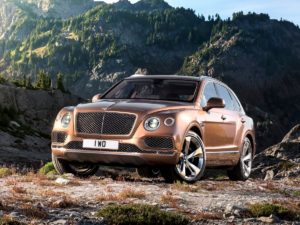 First deliveries of the new luxury Bentley Bentayga SUV will begin in January as the production line in Crewe has just started rolling.
We may not see one in the PB Customs workshop for a while yet but this beast is a proper off-roader with genuine ability. A performance powerhouse with an all-new W12 engine with top speed of 187 mph,the Bentayga has already sold two years worth of orders despite a starting price of £160,000 and then all the extras to add on.
As Bentley says…
"Bentayga has the power, performance and technological prowess to impose itself on the most challenging of terrains, yet with the craftsmanship and finesse to withstand the most extreme scrutiny. As you'd expect, to take on these uncompromising environments the development of Bentayga's engine has been equally relentless, ensuring it performs at its peak on or off road.
Bentayga is extraordinarily powerful, taking you from a standing start to 60 mph in 4.0 seconds (0-100 km/h 4.1 seconds), with a top speed of 187 mph (301 km/h). But it's not all unadulterated speed. The design of the twin turbochargers has been optimised to deliver better performance and efficiency than ever before. And Bentayga is more than capable of putting its torque to work in other practical ways. The new W12 engine delivers 5-90% torque within 1.1 seconds, twice as fast as its predecessor. This also helps Bentayga operate perfectly in all off-road conditions, at lateral and longitudinal angles of up to 35°."
Bentley Bentayga Launch Film